Contact Critical Link for product availability
Overview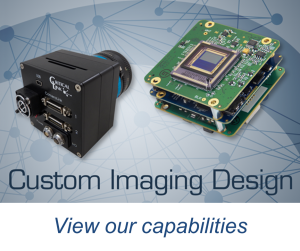 The Canon 3U5MGXSBA Evaluation kit features a 3U5MGXSBA or LI5020 5MP industrial CMOS image sensor with fast, distortion free image capture from Canon. The sensor features an electronic shutter and all pixel progressive readout of 120 fps.  In a 2/3″ format, proprietary pixel designs with low power consumption and enhanced sensitivity further improve performance. The 3U5MGXSBA and LI5020 CMOS sensors are innovative solutions where high performance is required in a small format. The camera is available with an AIA USB 3.0 Vision Interface (U3V), and a video output interface.
Combined with Critical Link's software tools designed for our Arria 10 based processor card, the Canon 3U5MGXSBA Evaluation Kit makes sensor evaluation and product integration quick and easy. Critical Link also supports a board set version of the camera for customers designing their own mechanicals or managing other integrations; contact us for more details.
Evaluation Kit Contents
The Canon 3U5MGXSBA Evaluation Kit allows integrators and end users to assess sensor performance and provides assets for image system designers to accelerate development time. The Evaluation Kit features a camera with a pre-installed 3U5MGXSBA or LI5020 5 MP global shutter CMOS sensor with raw data serial output via a USB 3.1 (Gen 1) interface. The evaluation kit has an open architecture design and gives developers the option to embed processing and software with the on-board ARM and FPGA*.
The 3U5MGXSBA Evaluation Kit includes:
Evaluation camera with pre-installed sensor (mono, RGB, or RGB-NIR )
Accessory package for out-of-the-box operation (quick start guide, power supply, all necessary cables)
Embedded software to setup the sensor, acquire image data, and communicate over USB 3.1 interface with any USB 3 compliant UI
PC-based UI application available for download to communicate with the camera
Sensor board design files source code*
VHDL code for the FPGA*
*Source code and VHDL code only available upon request with an NDA
NOTE: A Lens is not included in this kit.
As the lens plays a critical role in any imaging system, it is imperative that a suitable lens is selected to properly evaluate sensor performance for your end application.
When selecting an appropriate lens, there are several key factors which must be considered: Lens Type, Lens Mount, Focal Length, Sensor Size, Resolving Power, and Aperture to name a few of the more important ones. Some of these factors are associated with your application, and some are directly tied to how the CMOS sensor will perform. Please read below to learn more.
Applications
Machine Vision
Industrial Inspection
Flat Panel Display Inspection
Transportation
Document Scanning
Aerial Mapping and Surveillance
Video/Broadcast
3D metrology
Aeronautic imaging
Digital archives
Document scanning
Intelligent traffic systems
Large area surveillance
Mapping
Medical imaging
Packaging and inspection
 Reconnaissance
Scientific research
Security
Documentation
Specifications
Sensor Specification
| | | |
| --- | --- | --- |
| Sensor | Canon 3U5MGXSBA | Canon LI5020 |
| Active Pixels | 2592 (H) x 2056 (V) | 2592 (H) x 2056 (V) |
| Pixel Size | 3.4µm x 3.4µm | 3.4µm x 3.4µm |
| Image Area | 8.8mm (W) x 7.0mm (H) | 8.8mm (W) x 7.0mm (H) |
| Frame Rate (Global Shutter) | 120fps, 12-bit output mode | 120fps, 12-bit output mode |
| Dark Current @ 60C | 1.3 e-/s @gain x1 | TBA |
| Chroma | Mono, Color or RGB-NIR Pixel Filter | Mono, Color or RGB-NIR |
System Noise
| | |
| --- | --- |
| Read-out Noise (@120fps) | 2.6 e¯ |
Data Acquisition Modes
| | |
| --- | --- |
| Global shutter | Charge storage period control feature |
On-board Processor (MitySOM-A10S)
| | |
| --- | --- |
| CPU Engine | Intel/Altera Arria 10 SoC – Dual core ARM and up to 480KLE FPGA fabric |
| Full Featured SDK | Supports rapid application development |
Mount
Full cameras feature a standard F mount lens, while the board set version allows quick and easy custom integration into your product. Please contact Critical Link for more information.
Environment
| | |
| --- | --- |
| Temperature | -30°C to +105°C |
| Humidity | <80% non-condensing |
Electrical
Quantum Efficiency
Block Diagram

Interfaces
Mechanical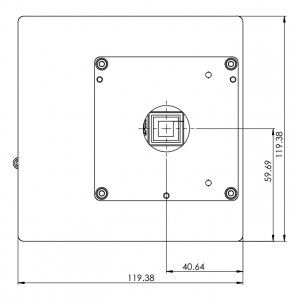 Measurements are in millimeters
| | |
| --- | --- |
| Dimensions (with Compact Enclosure) | 119.3mm x 119.3mm x 69.7mm  (4.7″ x 4.7″ x 2.74″) |
| Weight (with Compact Enclosure) | 1190g (42oz) |
Software
MityCAM image acquisition can be done with MityViewer, Critical Link's software solution for optimal throughput and complete functionality.
We recommend visiting the MityCAM wiki page on our engineering support site and registering for an account in advance of receiving your MityCAM. Once your registration is confirmed, you can download the latest version of our MityViewer software from the wiki page, which will be required to start capturing images.
Related Products
Purchase
The following table lists off-the-shelf configuration options for the 3U5MGXSBA Evaluation Kit. For shipping status, availability, and lead time of these or other configurations, please contact Critical Link.
| | | | |
| --- | --- | --- | --- |
|  Kit Part Number  | Interface Option | Sensor Option | Buy |
| 3U5MGXS-UM-C-S | USB 3 + Video output | Mono | Buy |
| 3U5MGXS-UC-C-S | USB 3 + Video output | Color | Buy |
| 3U5MGXS-UI-C-S | USB 3 + Video output | RGB-NIR | Buy |
| LI5020-UM-C-S | USB 3 + Video output | Mono | Buy |
| LI5020-UC-C-S | USB 3 + Video output | Color | Buy |
| LI5020-UI-C-S | USB 3 + Video output | RGB-NIR | Buy |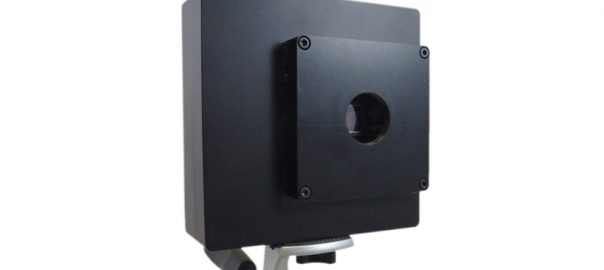 Canon 3U5MGXSBA Evaluation Kit
Get this product directly from Critical Link:
Request Quote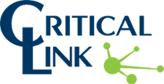 Or click to order this product from one of our distributors: