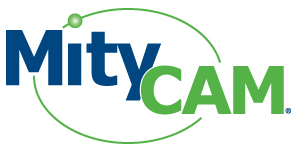 Critical Link plans to demonstrate three of its newest embedded vision solutions at Photonics West, February 10-12. The company's MityCAM® vision and imaging cameras combine the processing technology in Critical Link's Cyclone V SoC-based System on Module with high performance imaging sensors from top manufacturers, including Fairchild Imaging and CMOSIS.
The MityCAM's integrated dual core Cortex-A9 ARM + FPGA fabric allow for on-board image processing, a key capability when implementing advanced algorithms or overcoming data storage and streaming challenges. Cameras feature an array of I/O options and come in multiple production-ready configurations, including fully-enclosed cameras, complete 3-board sets, and partial board sets for customers who elect to design their own sensor or I/O boards.
Multiple MityCAM models will be demonstrated on the exhibition floor at The Moscone Center in San Francisco, CA. The MityCAM-B2521F, with a 5.5MP ultra-low noise sCMOS sensor from Fairchild Imaging, will be conducting an extreme low-light demo capturing images at .01 lux, an environment equivalent to a moonless clear night.
Other demonstrations will include the MityCAM-B1910F and MityCAM-C8000, showing standard image processing capabilities in both rolling & global shutter modes. The MityCAM-B1910F includes a 2.1MP low noise, high dynamic range sCMOS sensor from Fairchild Imaging. The MityCAM-C8000 is based on a CMOSIS 8MP high-speed, global shutter CMOS sensor.

Visit Critical Link at Photonics West booth #2708 to view these demos and to see how the MityCAM platform can be tailored to meet your project requirements. You can also learn about our CCD-based camera solutions, developed for high-throughput scientific imaging applications.
About Critical Link
Syracuse, N.Y.-based Critical Link (www.criticallink.com) is an embedded systems engineering firm, offering a broad range of customizable imaging and vision solutions for highly integrated, embedded systems for medical, scientific, surveillance, and industrial applications. Critical Link's end-to-end product engineering offerings include design, development, and production services. Critical Link is a member of the Altera Design Services Network, a Platinum Partner of the TI Design Network, and a certified member of the Arrow Consulting Engineering Services (ACES) network. Critical Link is ISO 9001:2008 Registered by SRI Quality System Registrar.