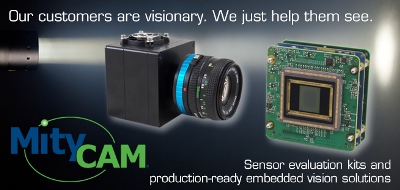 What is MityCAM?
MityCAM is Critical Link's family of highly configurable imaging and vision cameras. The platform is designed to be customizable with a variety of high-performance sensors, user programmable SoC featuring tightly integrated ARM and FPGA fabric, and multiple I/O options. Customers benefit from the platform's flexibility, with each building block tailorable to suit the application.
MityCAM products deliver robust on-board processing making them ideal for scientific imaging and vision applications involving high data throughput and advanced image processing.

What MityCAM models are currently available?
Three MityCAM series are currently on the market, with more releasing soon. Don't see your perfect solution here? Contact Critical Link. With a low minimum order, we can work with you to design and produce a completely customized, ideal solution for your company.
>>MityCAM-B2521F: 5.5MP. Low-light. Low-noise.
The MityCAM-B2521F couples a high-performance, low noise sCMOS imaging sensor from Fairchild Imaging with the processing technology in Critical Link's Altera Cyclone V SoC System on Module.
>>MityCAM-B1910F: 2.1MP. Low-light. Low-noise.
Like MityCAM-B2521F, MityCAM-B1910F combines a Fairchild Imaging sCMOS sensor with Critical Link's Altera Cyclone V SoC System on Module. Get the advanced features of the MityCAM platform, at a lower resolution and price point.
>>MityCAM-C8000: Windowing capabilities. High speeds. 8MP image quality.
MityCAM-C8000 offers 8MP resolution and incorporates a specialized half-sensor from CMOSIS that allows the user to access multiple windowing functions and process information at top speeds.
What's next for MityCAM?
We're continuing to develop new configurations that integrate additional sensors, processing capabilities, and I/O options. Engage with us to see how the MityCAM platform can be tailored to meet your project requirements. Learn more using any of the options below:
Sign up to receive our newsletter (just click the link and enter your e-mail address in the sign-up field in the upper right corner)
Contact Critical Link directly by filling out a brief form to request information
Use our rep locator tool to find a specialist in your area who can meet with you
E-mail info@criticallink.com
Call us at 315.425.4045

Visit us at booth #2708 for demonstrations of our newest MityCAM models. We'll be performing an extreme low-light demo with the MityCAM-B2521F, and showing off some of our standard image processing capabilities in both rolling & global shutter modes with the MityCAM-B1910F and MityCAM-C8000.
We look forward to seeing you in San Francisco!