Critical Link's MitySOM-5CSx Embedded Imaging Development Kit and our MitySOM-335x Maker Transition Kit will be on display at the DelMar Electronics & Manufacturing Show in San Diego, CA on May 3-4, 2017. Stop by booth #226 to learn more.
The Embedded Imaging Development Kit pairs Critical Link's MitySOM-5CSx with a Dart®, the latest camera from Basler, a world leader in vision technology. This power-packed combination is the fastest path for embedded imaging application development. The kit enables real-time image processing in the MitySOM's Cyclone V SoC, using dual-core Cortex-A9 ARMs and FPGA fabric, and leveraging IP Cores from Altera's VIP Suite. Image data feeds directly from the MitySOM-5CSx with no PC in the loop – a key out-of-the-box feature for embedded applications.
The MitySOM-335x Maker Transition Kit enables maker-pros to convert prototypes based o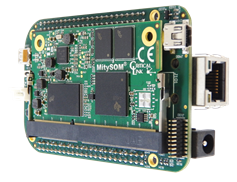 n the BeagleBone Black with TI's AM335x ARM processor to production-suitable designs leveraging Critical Link's proven MitySOM platform. The kit is designed to minimize changes when transitioning from the BeagleBone Black, and in many cases is a drop-in replacement. Interested developers can visit Critical Link's engineering site to review all design documentation and engage with our engineering team.
We look forward to seeing you at DelMar in San Diego!
About Critical Link
Syracuse, N.Y.-based Critical Link (www.criticallink.com) is an embedded systems engineering firm offering customizable system-on-modules (SOMs) and imaging platforms for industrial, medical, scientific, and defense applications. Critical Link's end-to-end product engineering services include design, development, and production. Critical Link is a premier Partner in the ImagingHub by Basler, a Platinum Member of the Altera (Intel) Design Solutions Network, a member of the Intel IoT Solutions Alliance, and is ISO 9001:2008 Registered by SRI Quality System Registrar.