MitySOM-335x Helps Bring Maker Prototypes to Market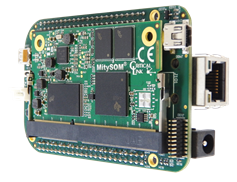 Critical Link is pleased to announce the MitySOM-335x Maker Transition Kit. Makers can now convert prototypes based on the BeagleBone Black with Texas Instruments AM335x ARM processor to production-suitable designs leveraging Critical Link's proven MitySOM platform.
The Maker Transition Kit has been designed to minimize changes required for those transitioning from the BeagleBone Black, and in many cases is a drop-in replacement. Interested developers can visit Critical Link's engineering site to review all design documentation and engage with our engineering team.
"Leading-edge designs come out of the maker community all the time, but often high potential prototypes encounter hurdles on the path to production," says Thomas Catalino, Vice President, SOM Solutions at Critical Link. "Undocumented design changes, availability, design for manufacturability, and production costs can all derail a great product design making it to market. Our new platform helps overcome many of these challenges."
The BeagleBone Black continues to be one of the most popular maker development platforms. It follows the community-supported model which provides numerous advantages in initial hardware costs, open source design documentation, and a large user base of talented developers willing to lend support. To take designs to market however, developers may need to step away from the community-based model and find a reliable partner to supply and support their production needs.
"Critical Link designs boards for industrial applications, meaning our customers can rely on us for long product lifespans and reliability in the field," says Catalino. "We provide all design documentation for our base boards, and work with customers to customize designs, adding features and minimizing recurring costs as needed. Our goal is to help developers successfully launch their ideas."
The Maker Transition Kit was introduced to select developers in late 2016, and was met with tremendous response that consumed all initial supply. General availability is projected later in Q1 2017. To order, contact the Critical Link sales team or visit https://www.criticallink.com/product/mitysom-335x-maker-transition-kit/.
About Critical Link
Syracuse, N.Y.-based Critical Link (www.criticallink.com) is an embedded systems engineering firm offering customizable system-on-modules (SOMs) for industrial, medical, scientific, and defense applications. Critical Link's end-to-end product engineering services include design, development, and production. Critical Link is a Platinum Member of the Texas Instruments Design Network and is ISO 9001:2008 and ISO 14001 Registered by SRI Quality System Registrar.