Critical Link today announced the expansion of its MitySOM®-5CSx family of System on Modules (SOMs). The newest addition to the family, the MitySOM-5CSE, is projected to have broader market appeal given its enhanced flexibility and lower price point than the original MitySOM-5CSX.
"Not everyone needs technology as powerful as the original MitySOM-5CSX," explained Tom Catalino, Critical Link's Vice President. "Our goal is to offer products that are just right for the customer's application. The original SOM is a good fit for demanding requirements in areas such as alternative energy, medical, aerospace, and defense. This new MitySOM-5CSE leverages the advanced technology of Altera's Cyclone V SoC in a smaller, lower power configuration featuring a single Cortex-A9 ARM core and 25K Logic Elements of FPGA fabric. It offers more I/O than the original parts, resulting in greater flexibility and an overall spec better suited for a broader spectrum of applications."
All products in the MitySOM-5CSx family are pin-for-pin compatible, allowing development teams room to grow and the flexibility to quickly and cost-effectively meet customers' ever-changing needs. The products are also highly configurable, with numerous combinations of technical features available. Additional parts will be introduced in this family in 2015 to fill out the range of processing density, speed grades, and temperature options.
"As a member of the Altera Design Services Network, Critical Link provides the best solutions to fit customers' needs utilizing Altera's industry-leading FPGA and SoC solutions.  With the MitySOM, customers can reduce system power, cost, and board size while taking advantage of extremely high bandwidth between the FPGA and ARM® Cortex™-A9 processor in the Cyclone® V SoC," said Chris Gourrier, Marketing Manager at Altera Corporation.  "The MitySOM provides customers all the powerful benefits of the Altera Cyclone® V SoC along with a much faster path to market."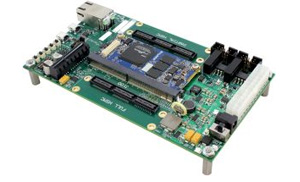 New MitySOM-5CSE modules and development kits are available today, and anticipated to be in stock at Arrow this month. Standard product variants will be available in any quantity, custom variants are also available with minimum orders. "Design teams can come to us with specifications for their perfect SOM," said Catalino. "Critical Link is ready and able to put these custom solutions into production immediately."
For more information about the MitySOM-5CSx family and currently available models, visit https://www.criticallink.com/product/mitysom-5csx/.
About Critical Link
Syracuse, N.Y.-based Critical Link (www.criticallink.com) is an embedded systems engineering firm, offering a broad range of highly customizable, small form factor SOMs and development kits for highly integrated, embedded systems for medical, scientific, and industrial applications. Critical Link's end-to-end product engineering offerings include design, development, and production services. Critical Link is a member of the Altera Design Services Network and a certified member of the Arrow Consulting Engineering Services (ACES) network. Critical Link is ISO 9001:2008 Registered by SRI Quality System Registrar.