Critical Link's Director of Marketing Recognized at Crystal Ball Ceremony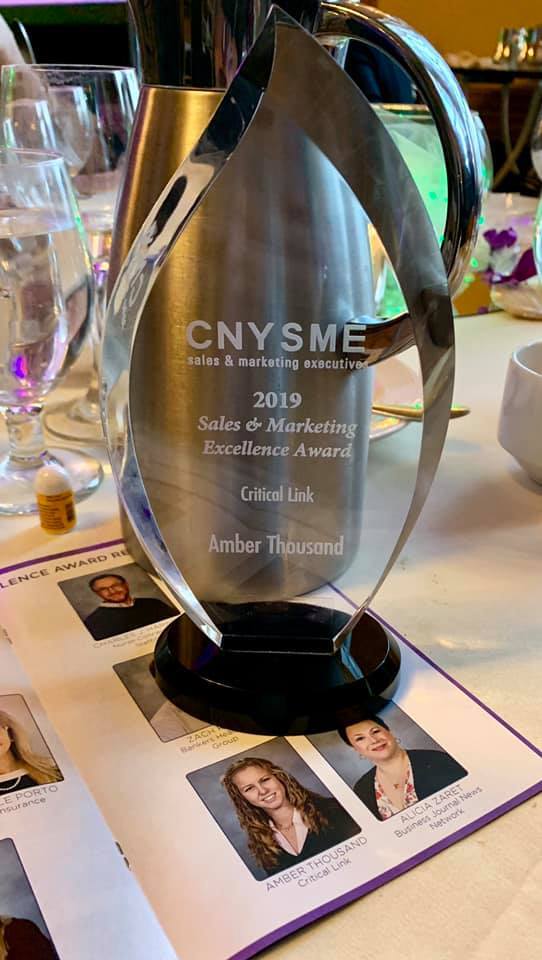 SYRACUSE, N. Y. – Critical Link is pleased to recognize its Marketing Director, Amber Thousand, with a CNY Sales & Marketing Excellence Award. This award honors individuals with demonstrated success in the sales and marketing profession and was presented at the 43rd Annual Crystal Ball hosted by CNY Sales & Marketing Executives.
Critical Link hired Amber in 2013 to establish a dedicated marketing effort. Since that time, she has become a key contributor to Critical Link's business strategy which has propelled the company's revenue more than 73% in the last three years.
"One of Amber's many strengths is her ability to see gaps in the company and fill them," said John Fayos, Critical Link co-founder and president. "She isn't afraid to step-up and implement change and there are few areas she hasn't improved."
Among those improvements, Amber helped redefine Critical Link's value proposition and go-to-market approach, implemented a new sales model, and established new processes to shift Critical Link from a services-based company, to a product-based one. Her leadership has helped the company grow, including more than tripling the number of system on modules sold each year.
"Amber helps us make our own luck," said Tom Catalino, co-founder and vice president of sales. "And as a result, we're reaching more customers than ever before."
Without a team or large budget to execute initiatives, Amber has strengthened and leveraged relationships to expand Critical Link's reach. This has included distributors, technology partners, manufacturers, media, rep firms, and more.
"It's an honor to be recognized among such a great group of professionals," said Thousand. "I am thrilled every day for my role at Critical Link. But the success we have had, and will continue to have in the years to come, is made possible because of the strength and contributions of the entire team."
Amber accepted her award at the 43rd Annual Crystal Ball hosted by CNY Sales & Marketing Executives at the Marriott Syracuse Downtown on April 30th. Amber was one of 12 professionals bestowed with this award. Visit www.cnysme.org for a full list of winners.
Central New York Sales & Marketing Executives (CNYSME) was founded in 1935 and is the area's recognized voice of the sales and marketing profession, the only organization focused exclusively on the needs of the sales and marketing professionals.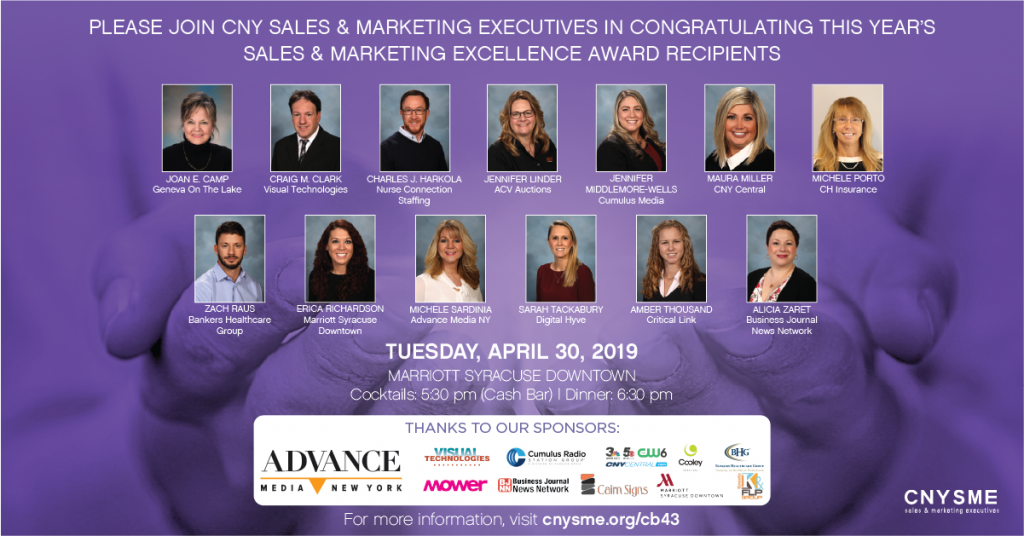 About Critical Link
Founded in 1997, Critical Link designs and manufactures board level processing cards (called System on Modules) and embedded imaging platforms for industrial electronic applications worldwide. The company delivers advanced technology solutions for customers in manufacturing, energy and utilities, defense, medical, laboratory science, transportation, and many others.
The company is owned and operated by its original co-founders and employs 42 people at its facility in Dewitt. And we're hiring! To learn more, visit www.criticallink.com and follow us on LinkedIn.
# # #