It's only December 6th, so there's still some time to do your holiday gift shopping. And, of course, thanks to Amazon, you don't even have to leave your reclining chair to get your shopping done.
One thing I like to look this time of year is the tech toys for kids. Last year, just about this time, I blogged about Simon Hill's article on digital toy trends. This year, what caught my eye was the New Atlas round up, by Michael Irving, of tech toys for 2017.
Remember when kids used to race their hot wheels by running them back and forth and saying "zoom, zoom – or was it "vroom, vroom"? Maybe because I was one of them, I sure do. But Hot Wheels have gone high tech, via Hot Wheels Osmo MindRacers.
After the MindRacers kit is hooked up to an iPad, players launch their cars "into" the screen to race or battle each other. The game plays out both on- and off-screen at the same time, with the kids controlling their cars by slapping down tokens in front of the camera, boosting themselves or attacking their opponents, Mario Kart-style.
Zoom, zoom. Vroom, vroom.
The Meccano MeccaSpider combines the erector set we all grew up with robotics and a programmable app that let's you control the what you build. Given that our products and the applications we work on are hardware with programmable elements, this is the type of toy that makes me wish my kids were still kids. Or that I was still a kid. Irving calls it the perfect STEM toy. I agree.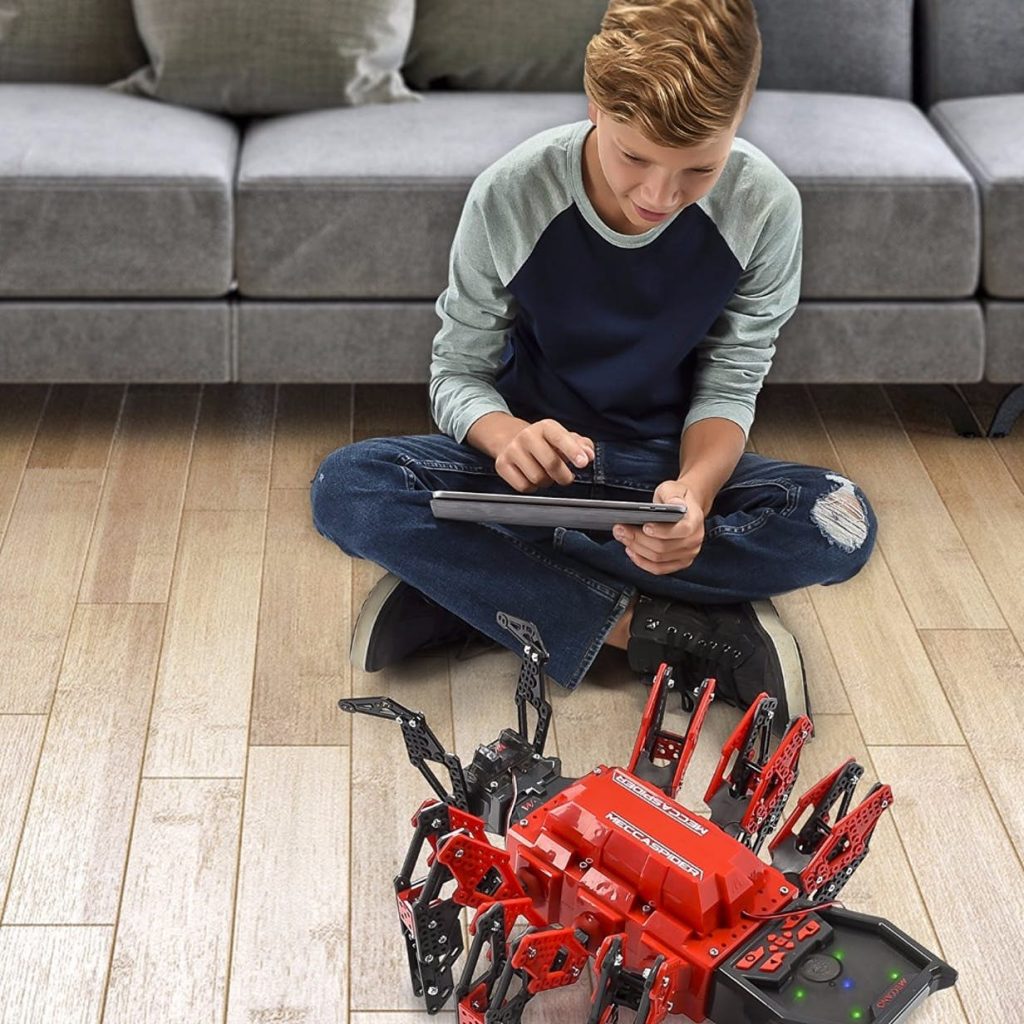 No surprise, there are robots on the list. No surprise there's Star Wars on the list. In this case, the Sphero R2-D2 & BB-9E are droids that are operated via a smartphone app. And they're Star Wars characters – lovable old-school R2-D2 from the original movie from way back in 1977, and the evil-ish BB-9E from the most recent edition. There's also a Sphero Spiderman. Same plot: robot run from an iOS or Android device.
Nintendo's going retro with the Super Nintendo Classic Edition.
This retro rerelease is a palm-sized version of the must-have home console of the early 90s, preloaded with a greatest-hits list of games that includes the likes of Mario, Donkey Kong, Zelda, Kirby, Metroid, Street Fighter and Mega Man. Plus, the long-lost Star Fox 2is playable for the first time ever.
Be forewarned: it may be hard to get your hands on this. It's pretty popular and selling out in some places.
Virtual reality makes its appearance with VRSE, a VR system aimed at and priced for the kids. There are two games available – Batman or Jurassic Park –  but can be used by the grownups to play other games, "360-degree videos and even fly FPV-enabled drones." Sounds like a bargain.
Mardles AR storybooks may look (and read) like any old regular paper and cardboard picture book, but if you look at them through a phone or table app, the augmented reality kicks in, the book turns 3D, and the kids can "interact with the characters and objects." I'm torn on this one, as there's something to be said for kids interacting with characters and objects in their imaginations.
You might have been wondering where the drones are on the list. They're here with the Extreme Fliers Micro Drone 3.0+. And while we're on the subject of flight, there's the NASA Apollo Saturn V rocket Lego set. It may not actually take flight, but it makes a pretty good replica of the real thing, and will definitely get kids thinking about space (and how we got to explore it). And, with nearly 2,000 pieces, it'll teach the kids a thing or two about building.
The final item on the New Atlas list is the RazorX Cruiser electric skateboard. Skateboards are more stable (4 wheels vs. 2) than hoverboards. Plus there are no incidents that I know of in which an electric skateboard has exploded.  Still, I think I'd rather see a kid on an unelectric, foot-powered skateboard.
But the fact is that anything that can be electrified will be electrified with the possible exception of some t
oys that are based on the technology available during the Renaissance. These aren't on the New Atlas list, but are nonetheless based on technology (and pure inventive genius) of yore. They're the Leonard da Vinci kits, which let kids build one of Leonardo's invention – the ornithopter, catapault, pendulum clock… But with all the breakthroughs that are occurring with autonomous vehicles. I'd go with the self-propelled cart. Interesting, fun, and no electronics, AR, or VR involved!
Enjoy your shopping!