Protea BioSciences, based in Morgantown, WV, is a leader in the development of new protein separation and identification technology. By enabling researchers to better identify protein biomarkers in blood samples, Protea's technology – cutting-edge, proteomics research work – helps biotechnology and pharmaceutical research companies develop improved drug therapies for cancer and other diseases.
Protea's scientists focus on their core expertise in separations electro-chemistry, combining it with the latest mass spectrometry instrumentation available to develop state of the art products. The data that they handle is complex, and the results have to be available quickly, accurately, and reproducibly. In developing their Protea Explorer™ system, Protea turned to Critical Link for the engineering help they needed. Critical Link, which specializes in implementing embedded systems, provides turnkey product development and "surgical strike" development assistance to a broad range of scientific and technological equipment and instrumentation industries.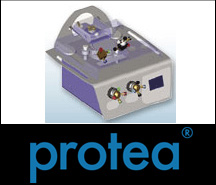 "We knew that we needed a processing engine to help drive our Explorer™ system. But we're chemists, not engineers," says Jim Lenke, Protea's Director of Product Development. The processing engine required takes a complex protein sample, delivers the sample to an electrophoresis channel, and launches the sample into a mass spectrometer for protein identification and characterization. "But we would no more have built that engine on our own than we would have built our own mass spectrometers. We want to focus on protein chemistry, not on platform issues. That's why we brought Critical Link into our development cycle."
After working with Protea scientists to identify their requirements, Critical Link recommended the MityDSP processing engine as the solution to handle their control needs. DSP controls the system's capillary electrophoresis, which vaporizes the samples and presents them to the mass spectrometer. Four stepper motors, controlled by the MityDSP processing engine, manage a rotating sample tray, an elevation platform, and dual syringe pumps to control the movement of the samples through the system. "Critical Link designed their solution with future product development in mind," says Lenke. "Our next two generations of products – photometer reading analog, and future connectivity to another paired unit that operates a different type of mass spectrometer – will be supported on the same easy platform." In addition to the hardware design and implementation, Critical Link provided Protea's software engineers with a convenient API to facilitate the development of the system software.
"Critical Link became a true partner in our development process," adds Jim Lenke. "They were a seamless extension of our product development team. Where our chemists left off, their engineers picked up. There was none of the 'gun for hire' feeling you sometimes get working with consultants." In fact, Protea was so impressed with Critical Link's work that it asked to include a Critical Link Embedded logo on their finished product. "We want the world to know that we work with the best. Critical Link is one great company, delivering on time."