BioTools develops dedicated instrumentation designed for spectroscopic studies of biomolecules. With a "dare to create" focus, they build products that help solve some of life's most intriguing bio-problems, enabling molecular scientists to perform analysis and research that results in breakthrough findings.
A case in point is BioTools' ChiralRAMANTM Raman Optical Activity Spectrometer, the first commercial ROA Spectrometer. Used for determination of conformations of biological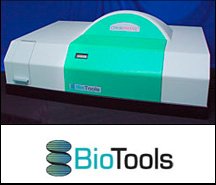 molecules such as proteins, nucleic acids, sugars and viruses, the ChiralRAMAN ROA Spectrometer lets users "see with 3-D vision." In 2004, this product received a prestigious R&D 100 Award. Sponsored by R&D Magazine, R&D 100 Awards – often referred to as "the Oscars of Technology" – recognize the most technologically significant products introduced into the marketplace over the past year.
BioTools prides itself on its scientific innovation. "Our focus is on the science of spectroscopy, that's where our expertise lies," says Dr. Rina Dukor, President and co-founder of BioTools. "But when it came to designing and building the actual product, we relied on the engineering expertise at Critical Link." Critical Link provides turnkey product development and "surgical strike" development assistance to a broad range of scientific and technological equipment and instrumentation industries. Critical Link specializes in developing embedded systems, a key reason why BioTools turned to them.
"Our product vision called for combining two types of spectrometers, laser RAMAN and circular dichroism," says Dukor, "This is a very sophisticated and complex approach, but we wanted to make sure that it was also commercially viable, so we set stringent manufacturability and cost goals. Critical Link was not only able to take the product engineering off of our hands, they were able to do so in a cost-efficient manner for both the development and production cycles."
Critical Link centered its solution around the MityDSP, a high performance, highly customizable DSP platform that combines best-of-breed off-the-shelf components (CPU, memory, configurable FPGA) with a custom I/O board. For the ChiralRAMAN ROA Spectrometer, the MityDSP manages all image acquisition and processing, as well as all the device's onboard optomechanical parts, such as shutters, optical rotators, and moveable optics.
Working with Critical Link freed BioTools' resources to focus fully on the unique attributes of their product, rather than on the technical platform it would be built on. Utilizing the MityDSP slashed development costs, and reduced time to market. The platform components already in place accounted for 75% of the time it would typically take to build a custom engine from scratch. "By using the Mity DSP to help implement our vision, Critical Link was able to put a prototype in our hands in just four weeks," says BioTool's Rina Dukor. "We estimate that it would have taken us four to six months of trial and error to develop this on our own."
"When it comes to ROA Spectroscopy, we're the experts," adds Dukor. "When it comes to product engineering, our experts are at Critical Link. They've really become an integral part of our product development team."