If you're a plan ahead sort of person, you may have your holiday shopping all done.
If not, and you're looking around for gifts on the techie side of the toy aisle, I found a few suggestions for you.
One list I saw was on Wired. There was nothing on their list that's actually a toy, but kids today are part of the digitized world from a very young age. The digital devices Wired suggests might be of interest if you have kids in the pre-smartphone cohort. I'll pull some of them out for you, but the full list is worth a full read through. (The writer who pulled together this collection, Adrienne So, has children who are 5 and 7 years old, and the reasoning for her choices is both thoughtful and informed by her real-life experience.)
Belkin makes child-sized headphones (the Soundform Mini) in a range of colors – and you can limit the volume and product your kids' ears. Higher up in price range, So likes the Amazon Fire HD 8 Kids edition, which she finds durable and of good value if you're willing to limit your kids to the proprietary content find on Amazon Kids+ (which has plenty of books, apps, music, games…)
The PlayShifu Tacto Chess game is kind of cool. "It turns the surface of the iPad into a game board and uses physical pieces to teach your kids moves and strategy." Fun, but nothing you can't do the old-fashioned way, i.e., play chess on a physical chessboard.
I mentioned that nothing on Wired's list was actually a toy. But here's one item that you wouldn't even wrap up and give to your kid: the Jiobit Smart Tag location monitor. Not that I couldn't have used this a few times when my kids were little, but it's really a sign of the times – and not in all that wonderful a way – that parents feel the need to use an app to check on their kids once they're outside playing.
Back in the more fun zone, there's the Amazon Echo Dot Kids speaker, which come in very cute animal designs. In addition to playing music, there's an Alexa skill (i.e., an app), the Reading Sidekick, that helps novice readers learn to read. And speaking of reading, there's the Kindle Paperwhite Kids Edition, which lets your kids feel all sorts of techie without getting them hooked on being on the Internet.
Too late for Halloween, but if your kids are waiting for the bus when it's still dark out, or out riding their bike at dusk, So likes the Knog Plus clipon lights. Another item more for the parents than the kids.
The final tech gift on So's list is the Nintendo Swtih Lite. I like what she says about an advantage of this console: "The best part about getting a Switch for your kids is that even if they lose interest, you can play on it yourself."
Engadget's tech gift/toy list by Kris Naudus is more on the fun, toyish side. It includes the Leap Frog Chat and Count Emoji phone, ideal for the pre-pre-pre-smartphone set. It includes a number of skill-building minigames, and will help keep your little one's hands off your iPhone.
Who doesn't like drones? Well, plenty of people, but I'm not one of them. But if the idea of having your child playing with a full-fledged drone, the Air Hogs Gravitor "is a different kind of drone, one they can control with a wave of their hand." Better yet, it's designed with soft edges to minimize the prospect of injuries.
Meanwhile, a Hello Kitty Purse Pet just blinks and makes noises, so it can't do anyone much harm. Another way to make noise is with the Yoto Mini Player, a speaker that provides entertainment and diversion – audiobooks, songs, podcasts – without having your kid's eyes glued to a screen.
There are a couple of Lego kits on the Engadget list. One is the LEGO NASA Apollo Saturn V kit, which is more toy than tech. Be warned: this is a sophisticated "toy" for older kids and adults.
My favorite item on either list is the LEGO Motorized Lighthouse set. This is pretty price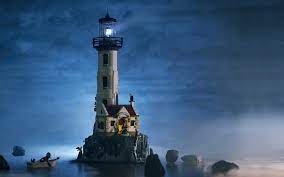 y – around $300 (there are less detailed versions for less), but it combines the old-fashioned fun of building something, with something for the more science-technically oriented kids. "The best part has to be the working fresnel lens at the very top of the lighthouse, just like the real thing but smaller — it can rotate thanks to the motor (which you'll also put together)." Sounds like my kind of tech toy!
Happy shopping!