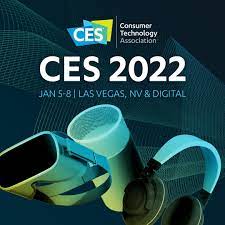 When you've been blogging as long as we have – and we're coming up on nine years now – you tend to develop a few traditions. One of ours is doing holiday tech toy shopping for kids and grownups. Another is paying a virtual visit to CES, the mega consumer electronics show held each year in Las Vegas. Admittedly, consumer electronics is not exactly the bullseye for Critical Link. We're more on the "industrial strength" end of the application spectrum. Still, we're also consumers (not to mention engineers), so we're always interested in what's happening in the consumer space, too.
So what was there to see at CES 2022? For starters, I'm going to rely on Greg Kumparak's roundup article, which appeared a couple of weeks ago in Tech Crunch.
As a car guy, I was naturally intrigued by the first item he mentioned: BMW's color-changing car, which uses E Ink technology to change things up. We can't get too excited as yet. It's only a demo, and it only let's you choose black, white, or shades of gray. But one can easily imagine the future, where people can change the color of their car to match their mood – or the color-scheme for a wedding party. (Limo companies will, I'm sure, jump right onto this.) More practically, a car owner might switch from black to white on a hot sunny day, keeping the car cooler and saving on energy costs. All very interesting, but I can't help thinking about what it will do to descriptions of getaway cars. And will this technology let the bad guys temporarily paint their vehicles to look like police cars while they do their criming. Just where my mind goes. But the technology is certainly interesting.
Bob the countertop dishwasher doesn't need to be plumbed. If you're living in a small space, and aren't doing dishes in family mode, Bob, from Daan Tech, uses just one gallon of water to wash a (small) load, which the company estimates is about one-fifth the amount used for hand-washing. Better yet, Bob comes equipped with a water-free setting that uses UV-C to disinfect items, like your phone, that you can't put through the washer. Bob is already on the market in Europe, where it's done pretty well. And will be available in the States later this year.
If you know anyone with diabetes, you're familiar with the need to do glucose monitoring, which means endless finger pricks to take blood samples to test. Scanbo is an AI company that's prototyped a non-invasive device for monitoring blood glucose levels. The device uses electrodes to capture cardio data, and optical tech to detect blood volume changes. It then uses special algorithms to analyze the glucose level. They're starting the process of gaining FDA approval. Sounds very promising. And good news for those who've been stuck with finger sticks.
Solar shingles have been around for a while but have required specialized installation processes. Timberline Solar from GAF Energy is designed to be installed by the average roofer with the average nail gun. By bringing down complexity and costs, it's hoped that more people will adopt energy efficient roofing. (UL has a new "building-integrated photovoltaic (BIPV) solar roofing certification) and GAF Energy is the first company to receive the certification.)
What are some of the trends spotted at CES 2022? Smart homes are getting smarter, and some of the biggest players – Apple, Amazon, Google – "have banded together to build a [smart home device] protocol called Matter." Robots are getting more lifelike and/or more useful. EV charging is getting a lot of attention, which will translate into EV's becoming more universal. Lots of talk about the metaverse (which I'm choosing to ignore for now). And, since it wouldn't be CES without them, lots of fun gadgets.
Hopping over to The Verge now to see which products got their best in show awards, they gave their "Best in Show" nod to the Samsung Odyssey Ark, a 55-inch curved, wrap-around computer monitor/screen with 4K resolution. No price available as of yet, but I'm guessing that, if you need to ask the price, it's probably more than you're willing to pay! A few other "bests" also caught my eye. They gave their "Best Concept" award to that E Ink car paint. For the "Best Robot," The Verge liked a robot shelf dubbed the Labrador Retriever, which looks nothing like a Lab, but unlike your average Lab, it can maneuver its way to your fridge, open the door, and grab something out of it for you, which will prove very useful to those with limited mobility (or who are just plain lazy).
That's it for CES 2022. Maybe I'll get there in person next year…