Hard to imagine that we're already into February, but it's still not too late to take a look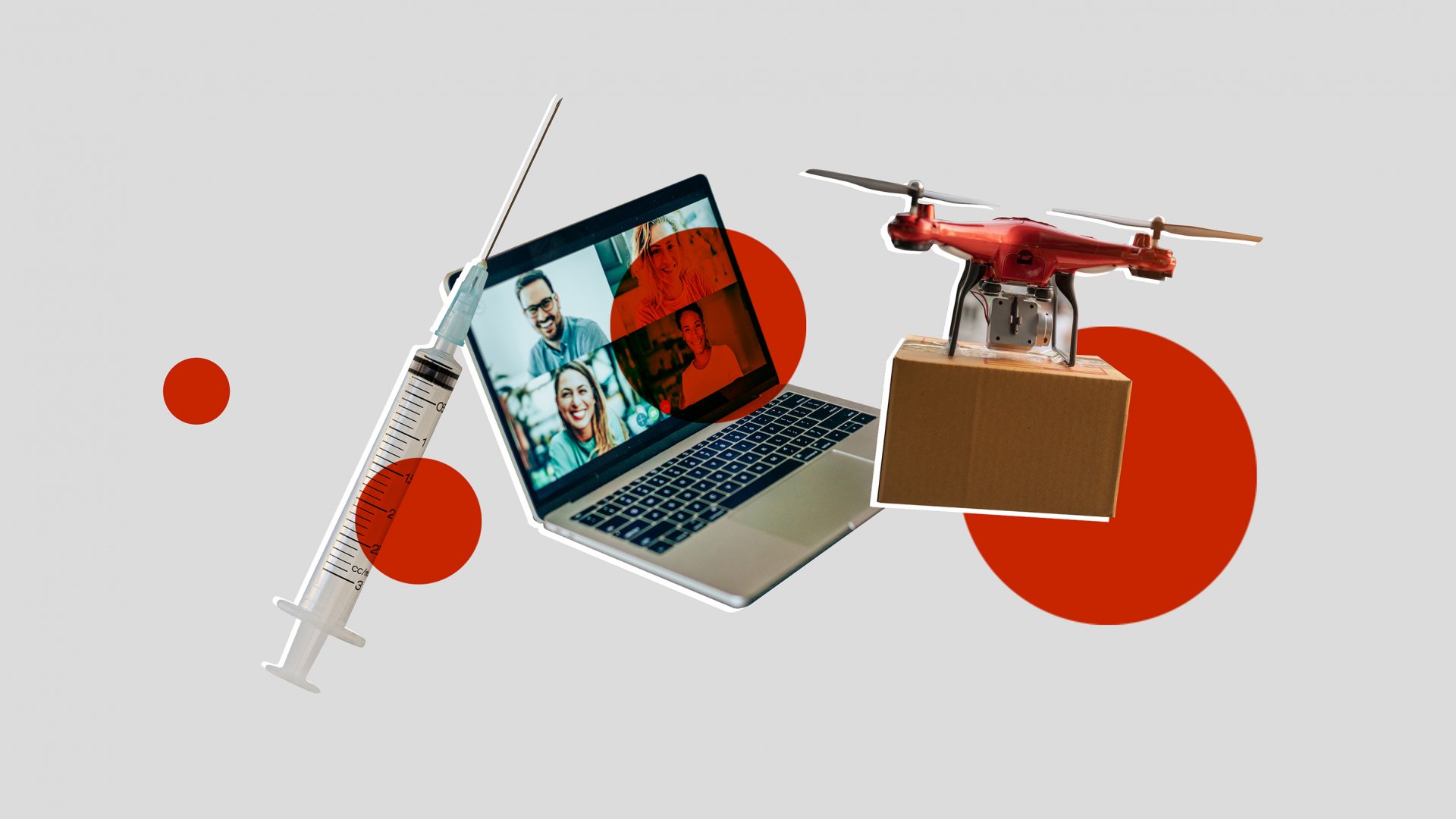 at the technology trends for the new year. So here's my summarization of the trends list created by Anis Uzzaman on Inc. which I recently came across.
Not surprisingly, the first trend is the advances in vaccine development and COVID testing sparked by the pandemic. Testing approaches, while not 100% perfected, have improved, and affordable home testing kits are on the near horizon. Technological breakthroughs are enabling more rapid vaccine development, and the mRNA vaccines now out (from Pfizer and Moderna) represent significant innovation.
Videoconferencing and work-from-home technology have been progressing for years now. But it took COVID to make Zoom a household word: noun, verb, adverb, adjective, participle, gerund… There are many other conferencing and collaboration platforms out there that let groups meet, "create and share content, interact, track projects, train employees, run virtual team-building activities, and more." I'm hoping that 2021 is the year in which organizations can resume having employees working in person, but the ability to work remotely isn't going anywhere, and there's a lot of excellent technology making it all possible.
Contactless delivery and shipping aren't going anywhere, either. While many of us have gotten use to the delivery guy texting us that our take-out dinner is on the doorstep, a Chinese company, Meituan, is taking things a step further. It's now begun "using autonomous vehicles to help fulfill grocery orders to customers."
With people looking to minimize their exposure to COVID, telehealth and telemedicine has taken off, and "telehealth visits have surged by 50 percent compared with pre-pandemic levels." There's no substitute for an in-person visit to the doctor, and obviously many health problems can't be solved remotely. No home MRIs, no setting a broken leg over the Internet. But routine patient chats can take place online, man problems can be monitored remotely, and offerings for "A.I. avatar-based diagnostics, and no-contact-based medication delivery" mean that more and more problems can be taken care of remotely.
Our kids are grown, so my wife and I haven't had to become home schoolers, but the pandemic has certainly been a boon for online education and e-learning. Classes and even athletic coaching are being conducted using Zoom and other videoconferencing platforms, but there are many elearning platforms, purpose-built for learning (as opposed to business meetings) are coming to the fore, for higher-ed and K-12.
Homeschooling (mostly involuntary) and working from home are compounding the demand for 5G infrastructure, new applications, and utilities that was already coming from smart homes, smart businesses, smart cities, and autonomous mobility. The IoT really is becoming the Internet of Everything. 5G is now deployed in many countries, and expanding rapidly. And 6G is on the horizon.
Building on the development of the last several decades, A.I., robotics, the IoT, and industrial automation all continue to grow rapidly. Post-pandemic,
"As manufacturing and supply chains are returning to full operation, manpower shortages will become a serious issue. Automation, with the help of A.I., robotics, and the internet of things, will be a key alternative solution to operate manufacturing."
Virtual reality (VR) and augmented reality (AR) technologies usage is rising. With entertainment options diminished due to COVID, interest in VR and AR is naturally increasingly. But "immersive technologies from AR and VR innovations enable an incredible source of transformation across all sectors." Real estate "house tours". Remote support. Virtual trade shows. There are a growing number of VR/AR application areas. And the acceleration of VR/AR will, in turn, spur demand for (and the development of) 5G networks.
As demand for fossil-fuel based transportation decreases, micromobility continues to grow. If you're not familiar with micromobility – and it's not something I have a lot of interest in – we're talking about e-bikes and e-scooters. This is mostly a young folks, urban game – an e-scooter isn't going to work for grocery shopping for the family – but, along with the likes of Uber and Zipcar, they're part of the growing menu of transportation alternatives.
But cars will continue to be on the menu, as well. And some of them will be autonomous vehicles. The technology isn't fully here yet, but automakers have been introducing incremental self-driving features for years. (Think automatic braking and hands-free parking.) But autonomous cars will likely be generally available in the coming decade.
In his trends piece, Anis doesn't introduce anything particularly innovative or game-changing, "just" technology that builds on earlier development. But isn't that the way most technological advances occur? Anyway, it's always fun to see what those in the know anticipate for the coming year.