Well, it's December now, and anyone celebrating one of the gift-giving holidays that's coming up is likely going into shopping overdrive.
Even though my kids are grown up, and there are as yet no grandkids on the scene, I always enjoy some virtual "window shopping" for tech toys. (Guess I'm a kid at heart.) So I had fun looking through PC Magazine's take on this year's hottest tech toys. (I'm not trying to sell you anything, but I put in the rough price for each toy, so you have a sense of cost.)
For a mere $75, you can get a Moose Toys Squeakee The Balloon Dog, which – unlike the balloon animal you pay the guy in the park a couple of bucks to twist together for you – makes all sorts of noises, and does all sorts of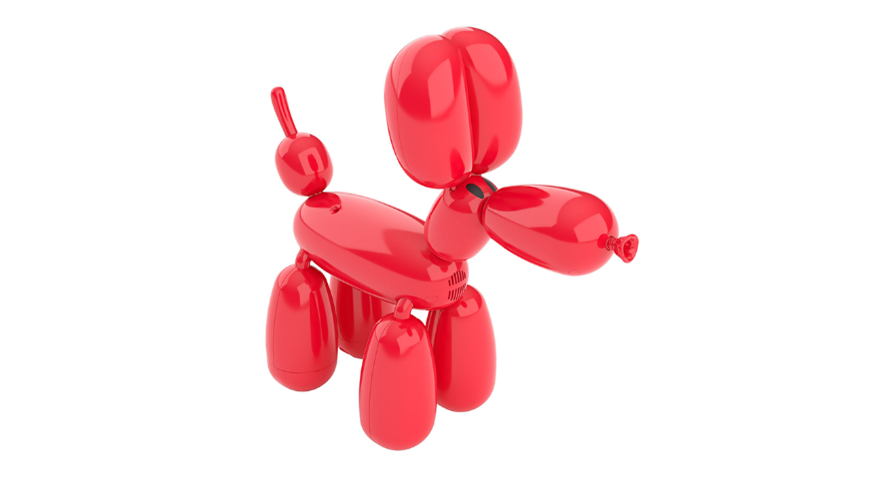 tricks on command. It's cute, and maybe it's just me, but this looks more like a toy that a grownup thinks a kid would like than a toy that a kid would like. Think I'd stick with the one from the guy in the park, which provides both the benefit of being a lot cheaper, but also – once it gets punctured or deflates – helps teach the kiddo how to deal with disappointment.
If you want to teach your preschooler colors and shapes, the Flycatcher Smarty JOJO encourages kids to look for something in a certain color. The kid flies the plane – manually: this is a digital toy that's also old-school – over to the object, the Smarty JOJO (which costs $25) lets them know if they got it right.
For even younger kids, there's the DMAI AILA (Animal Island Learning Adventure) Sit & Play which helps the kids learn not just colors and shapes, but letters and numbers. It uses AI to "adapt in real time to a child's interest based on their physicl and emotional reactions." Kind of like how parents do, no? Interesting. But, at $139, not cheap, either.
Spinmaster Ninja Bots look like fun. The kids get to pick their bot's weapon, which are items like a tennis racquet or a boot, rather than guns, and "the weapon determines how the bot behaves." The kids use hand gestures to train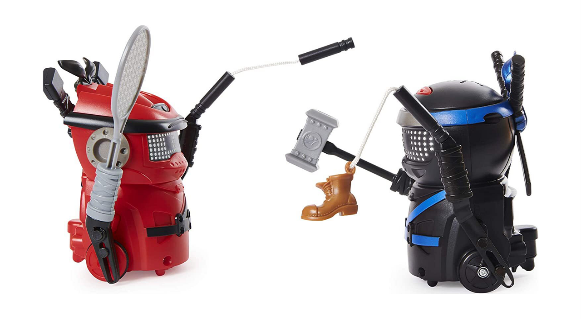 their bot to fight. For $40, it might not last forever, but it sure looks like fun. (Hint, hint.)
The same folks (Moose Toys) who bring you the pricey balloon dog also offer (for $39) an interactive pet, the Gotta Go Flamingo, that talks, moves, and sits on its little toilet singing. It's for kids beyond potty training age, but, as we all know, for some kids potty humor never gets old.
For those who'd like an interactive baby doll, Spinmaster's Mealtime Magic makes facial expressions depending on what (fake) food you're feeding it, plus makes other noises and has a few things to say ($59).
The Sphero Mini Activity Kit is a toy (for $80) after my own heart. It's a robot ball with a gyroscope, accelerometer and LED lights, and ideas and accessories for 15 projects the kids can try.
If you're child already has a table, the Osmo Little Genius Starter Kit ($80) lets kids play around with letters, shapes, and costumes, which can then be scanned into an Osmo educational game.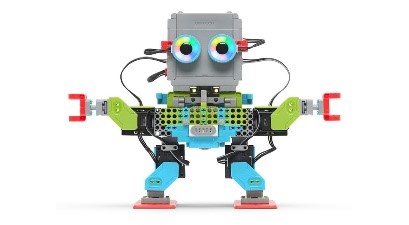 Just like the Ninja Bots, the Ubtech Jimu MeeBot 2.0 Kit ($130) makes me want to be a kid again. Or at least have a kid on my list to buy one for. The kit comes with Lego-like parts – plus servo motors, a codable color sensor, three gears, programmable LED eyes and other accessories. There's an app that walks you through building the robot, coding it, and playing with it. As a long-time robotics fan, I'm in on this one!
The Cubelets Curiosity Set ($250) is pricier than the Jimu, but it lets a kid build a perhaps-more sophisticated robot. It's described as "lots of fun and educational potential."
For Nintendo Switch, Mario Kart Live: Home Circuit ($100) is a physical, remote control toy cart ("driven" by Mario) that lets you set up virtual tracks and create your own obstacle courses around the house.
Way up the price ($500) and sophistication chain is the Ganker EX Robot, which is obviously for true robot fans. This unique robot comes with a controller you wear around your waist that lets the Ganker EX mirror your every move. You grab onto two joystick-like extensions to move the bot's "arms." And as you walk, run, and spin around, the Ganker EX does as well.
Another toy for older kids, and one that's more affordable than the Ganker, is the Hasbro DropMix ($32). This is an electronic board on which players lay out cards that represent different songs. DropMix performs a remix, changing up the tempo and pitch.
Thanks to Carol Mangis and Jake Leary for pulling together a fun list to browse through.