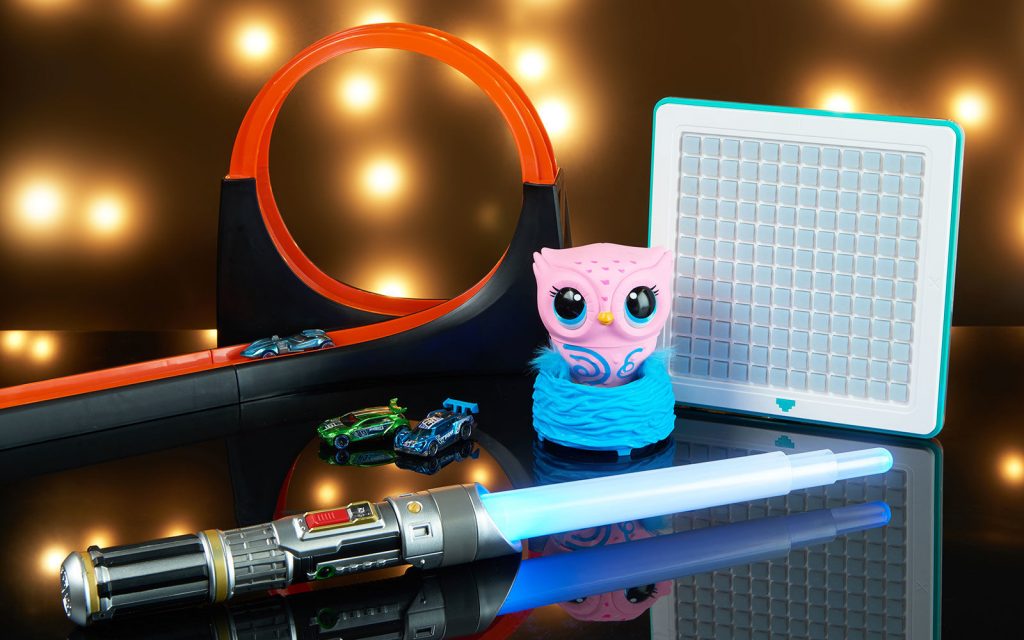 Because I'm at a "tweener stage" in life – my kids are too old for toys and there are as yet no grandkids on the scene – I was going to devote my holiday-related post to electronic items for the home. But a fancy electronic coffee scale and a souped up instant cooker were just not as fun or interesting to me as tech toys are. So I took a look through Engadget's list for 2019, and here's what I saw.
Bandai Tamagotchi On My kids were kids during the original Tamagotchi craze of the late 1990's and early 2000's, so I remember the original version of this virtual pet game. And it was pretty primitive by current tech standards. Tamagotchi's come a long way. The On is a Bluetooth enabled version that lets pet owners connect with their friends for virtual playdates.
Hasbro Star Wars Lightsaber Academy Kids who'd rather play Jedi than tend to a virtual pet may prefer this lightsaber, which "uses built-in sensors and a Bluetooth app to coach you on your form and then send feedback to an app." Pick up another lightsaber and your kids can duel each other. Or duel with you.
Hasbro Monopoly Voice Banking Today's kids don't have the patience for long drawn out Monopoly games. They get bored by the board. So Hasbro has come out with a device for taking care of some of the more tedious aspects of the game. It handles all the scorekeeping and transactions and generally streamlining[es] the rules. The game's a lot more enjoyable when you don't have to worry about keeping track of your cash."
Yeah, but some kid"'s still bound to toss the board over when they land on your hotel cluster and go bankrupt. (Not that I have any first hand knowledge of such behavior.)
LEGO Hidden Side Graveyard Mystery This one is an interesting combination of the real and virtual worlds. Hidden Side
"actually requires children to perform activities with their physical Lego sets in order to progress in the free, mobile AR game. Between an interesting supernatural investigation story and some creative set designs, there's plenty to keep kids engaged."
Without sounding too ghoulish, this one looks like fun.
LEGO Imperial Star Destroyer Well, this one model is incredibly detailed and challenging to put together. There are 4,700 pieces, and if  your kids don't have the patience for a round of Monopoly, they're probably not candidates for this gift. And at $700 it's way out of range for most toy-buyers. But if you've got the time, the money, and the patience. And you're a huge Star Wars fan…
Mattel Hot Wheels ID Smart Track Kit This one isn't cheap either ($180), but Hot Wheels ID Smart Track provides the definitive answer to the eternal question of whose care is faster "thanks to its system of smart-track and NFC-enabled cars. It handily keeps tabs on how fast each vehicle goes and how far it's traveled, which will satisfy data nerds while also giving kids a definitive answer as to who's ruler of the road." Plus it keeps the "stunt-driving" features that made Hot Wheels so great to begin with.
Mattel Pictionary Air Who would have thought that there'd be a way to tech up Pictionary? Not me. But Mattel came up with one, coming out with the Air version, "with players now using a special wand to draw their pictures in midair." Pictures can appear on tablets or on a TV screen, which makes it easier for a larger group to play.
Nintendo Labo Toy-Con 04: VR Starter Kit: This lets kids put together a headset they can use with their Nintendo Switch so they can play the games they love in virtual-reality mode.
Playtime Engineering Blipblox: For younger kids – like my future grandkids – there's the Blipbox that lets kiddos make a lot of noise. And more. "Once a child has moved beyond the phase where they randomly push buttons and turn knobs, they can learn to follow the signal-flow lines on the front to get a grasp of how synthesis works — and even eventually hook up an external keyboard to play it like any other instrument. "
Primo Toys Cubetto Playset Coding Toy: For future programmers, there's the Cubetto, a programmable wooden robot. Kids do the programming by fitting color-coded blocks in the control board. They're asked to program tasks which "will give them a hands-on, tactile introduction to loops, functions and algorithms" even before they know what a loop, function or algorithm is.
Skyrocket Pomsies Lumies Come with a built-in color sensor that lets kids "play hue-based games" with these little critters.
Spin Master Owleez They're almost as cute as the Pomsies Lumies, and they have the advantage of being a drone. "Owleez's head opens up to release a set of helicopter blades that allow the little plastic bird to fly short distances. It's weird as hell but in that endearing way that will have kids carrying it everywhere." So if you don't mind cute little drones flying around your family room…
Tech Will Save Us Arcade Coder I don't necessarily believe that "tech will save us" from everything, but learning to code is a good thing. And learning to code a video game of your own design is a fun thing.
In truth, with the exception of the $700 Star War model and the voice-banking edition of Monopoly, I pretty much like all the toys on the Engadget list. I will observe, though, that – as modern as most of these toys are, with their current technology, some of these brands are oldie and goodie enough to go back to my childhood, let alone the childhoods of my kids. Hot Wheels. Legos. Star Wars. Nintendo.
I just might take myself toy shopping.