Recognition reflects 67% three-year growth of DeWitt-based company.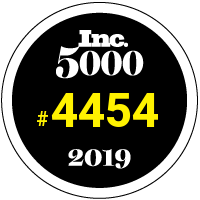 SYRACUSE, N. Y. – Inc. Magazine announced yesterday that Dewitt-based Critical Link, LLC was named to its list of 5,000 fastest-growing companies in America for the second year in a row. With 2018 revenues of $12.7 million, the company achieved three-year sales growth of 67% earning a rank of No. 4454 on the prestigious list.
"Making this prestigious list a second year in a row is an honor," said Critical Link president John Fayos. "We are proud of the growth achieved throughout our 22-year history, but are especially pleased with the tremendous increases seen in our product business these last 4 years. It is this success which has driven our overall company performance, and put us in the national spotlight."
The Inc. 5000 list is an exclusive ranking of the nation's fastest-growing private companies and represents the most comprehensive look at America's entrepreneurs.
"The companies on this year's Inc. 5000 have followed so many different paths to success," says Inc. editor in chief James Ledbetter. "There's no single course you can follow or investment you can take that will guarantee this kind of spectacular growth. But what they have in common is persistence and seizing opportunities."
Critical Link is widely respected as a leader in the design and production of embedded system solutions. The DeWitt-based company joins just four others on the list from Central New York, and only 81 engineering firms nationwide. The company specializes in system-on-chip (SoC) and field-programmable gate array (FPGA) designs, sensor integration, and signal processing.
Among other achievements, the company recently announced it was selected by Canon USA to develop evaluation kits for three of its industrial CMOS image sensors. These cameras are built around Critical Link's MitySOM-A10S featuring the Intel/Altera Arria® 10 SoC processor for industrial applications.
ABOUT THE COMPANY:
Critical Link, LLC (Syracuse, NY www.criticallink.com), is an embedded system engineering firm providing system on modules (SOMs) and embedded imaging solutions for industrial performance applications. The company's expertise in image sensor integration, system-on-chip (SoC) and field-programmable gate array (FPGA) designs, vision protocols, and signal processing has made it a leader in board-level solutions and custom designs for OEMs and embedded developers around the world.
Privately held, Critical Link is a Platinum member of the Intel FPGA Design Services Network and Intel IoT Solutions Alliance, a Platinum member of the Texas Instruments Design Network, and is ISO 9001:2015 Registered by SRI Quality System Registrar.
#     #     #