Principal Engineer at Critical Link to be honored at April 8 Banquet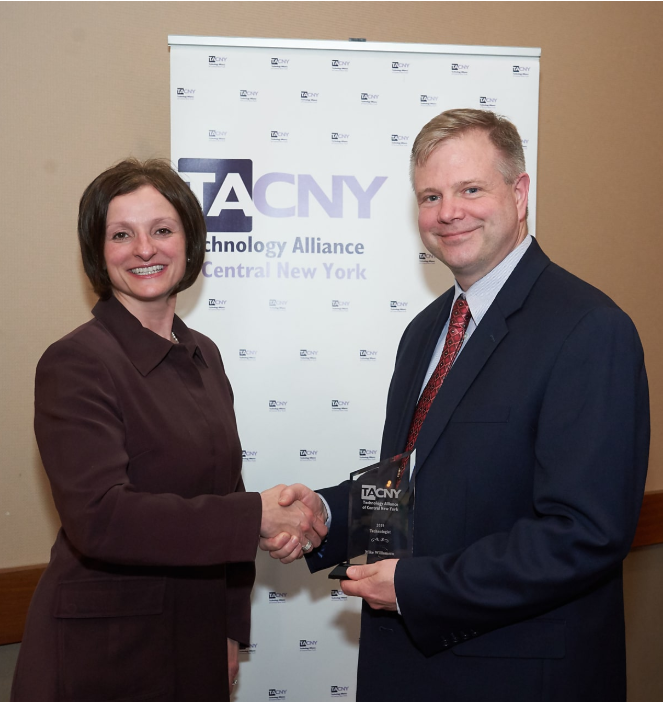 SYRACUSE, N. Y. – Critical Link, LLC is pleased to announce Michael Williamson's selection as the 2019 Technologist of the Year by the Technology Alliance of Central New York (TACNY). This award recognizes a resident of Central New York who has made recent outstanding contributions to advances and improvements in a STEM field, not limited to engineering.
"Impressive technologies depend on having impressive technologists, so TACNY is pleased to recognize Mike Williamson of Critical Link as our Technologist of the Year," said Howie Hollander, president emeritus of TACNY. "Mike's technical achievements and leadership have made a tremendous impact, both internal to Critical Link and with customers and partners in their industry."
As principal engineer at Critical Link, Mike is instrumental in defining the company's roadmap, which includes numerous recent award-winning products. Mike's incredible depth and breadth in his technical capabilities is a rare combination, and is why everyone at Critical Link looks to him as the de-facto leader in technology. Mike has led the development of more than a dozen Critical Link products, totaling millions of dollars in revenue.
"Mike has been instrumental in helping Critical Link become a recognized leader in Machine Vision," said CTO and co-founder, David Rice. "His technical abilities and enthusiasm for taking on big challenges has increased the rate of advancement and redefined what's possible in vision and imaging technology worldwide."
"I'm humbled by this recognition," said Williamson. "Most of the accomplishments cited required a pretty sharp team of people to be successful. A lot can be accomplished when you're part of a good team."
Among those achievements, Mike earned a patent (US20090244536) titled "Two Dimensional Optical Imaging Methods and Systems for Particle Detection" for his contributions to a customer project with Particle Measuring Systems that involved liquid particle counting. Prior to joining Critical Link, Mike spent 10 years at Lockheed Martin as a systems engineer in various roles. He completed the prestigious Engineering Leadership Development Program before leading several project teams and surveillance radar programs. He holds electrical engineering degrees from both RIT (BSEE) and Syracuse University (MSEE). Mike resides in Fayetteville with his wife and three children.
Critical Link also won in a second category– STEM Company of the Year. The company will accept both awards at TACNY's 20th Celebration of Technology Banquet on April 8th at the Holiday Inn in Liverpool. For more information about the event, and a full list of winners please visit www.tacny.org.
TACNY is a not-for-profit organization whose mission is to promote excellence in technology in Central New York. The Alliance organizes various programs and events to bring Central New York's technical community together.
ABOUT THE COMPANY:
Critical Link, LLC (Syracuse, NY www.criticallink.com) is an embedded system engineering firm providing system on modules (SOMs) and embedded imaging solutions for industrial performance applications. The company's expertise in image sensor integration, system-on-chip (SoC) and field-programmable gate array (FPGA) designs, vision protocols, and signal processing has made it a leader in board-level solutions and custom designs for OEMs and embedded developers around the world.
Privately held, Critical Link is a Platinum member of the Intel FPGA Design Services Network and Intel IoT Solutions Alliance, a Platinum member of the Texas Instruments Design Network, and is ISO 9001:2015 Registered by SRI Quality System Registrar.
# # #