This time of year, I like to take a look at the best tech toys out there.  I rely on compilations that have been put together by someone else and this year's someone else is Kelly Hodgkins, who put together a top 20 list over on Digital Trends.  I won't be covering all 20 – mostly (but not always) avoiding the really pricey ones – like the $280 robot kit aimed at 5 years old – but mainly picking out the ones that I found a good combination of interesting and affordable. So here goes.
For kids 8 years and up, Kelly's suggestions are heavy on the robot kits. I like the idea of giving kits rather than finished products, as there's no better way for a kid to learn how something works than to build it for themselves. (I suppose that completely building something from scratch would be even better for learning, but you know what I mean.) The most reasonably priced robot kit on the list is the Makeblock mBot Smart Robot Kit ($85), which is touted as making "it easy to introduce STEM to elementary school kids." I'm all in favor of that.
Higher up the price ladder, the Meccano Meccanoid G15 KS Personal Robot costs $195. This is more investment-level, and – with 1200 parts – it's definitely for a kid who has a demonstrated interest in building their own personal robot and the patience to do so. Maybe for the kid who really enjoyed a starter kit last year?
Maybe because it reminds me of the lower tech "science-y" toys I grew up with, I'm quite partial to the Circuit Maze Board Game. It's only $30, and "teaches your kids all about how circuits and electricity work." And "if you're trying to cut down on screen time, this is a nice alternative." Sometimes I think that I should cut down on my screen time, so perhaps I should get one of these for myself!
For those 6-7 years and up, I like the SAM Labs Science Museum Inventor Kit for $100. Again, this is somewhat costly so probably wouldn't be good for a child with only a casual interest. But for a kid who's really curious, it comes with a "light sensor, a buzzer, a tilt sensor, a motor and a few other bits and pieces" and "includes guides that encapsulate everything from Morse code to alarm systems." Sounds great for a budding EE.
As mentioned, I like kits, so I was drawn toward the Kano Computer Kit for $130 which gets your child to build their own computer and inspires them to learn programming as well.
On the other hand, I don't really like the SelfieMic Selfie Stick Microphone. At $27, it's affordable enough, but who really wants to promote self-centeredness with a toy that combines a selfie stick and a microphone. Just say no!
For younger kids – 2 or 3 to 5 years old and up – there's that aforementioned expensive robot. But there's also the Vtech Touch and Learn Activity Desk or $45, which is good for developing an interest in technology while also helping with motor skills. at delve into different subjects.
I don't know quite what to make of the Play-Doh Touch Shape to Life Studio ($30). Play-Doh is pretty much the ultimate no-tech toy, but it's wonderful at promoting creativity (and helping the littlest kids learn about colors). This kit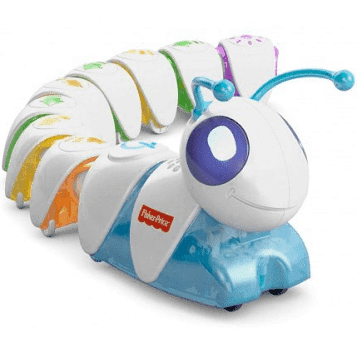 lets you scan your Play-Doh creations into your iPad where "they come to life as characters or objects in a colorful, side-scrolling world."
My favorite tech toy for the littlest guys has to be the Fisher Price Code-a-Pillar. "This robotic caterpillar consists of different sections, ones your child can stick together. Each segment does something different, so by sticking them together in a specific order, your child is creating sequences that form the basis of coding." Plus it's cute and "toy like" enough to make it attractive and interesting for really young kids. Not to mention that it's got a great name.
In our technically-driven world, it's important to expose kids not just to technology – that's going to happen whether you like it or not – but to help them gain an understanding about how it all works.
Happy shopping!