A couple of weeks ago, Critical Link traveled to Santa Clara, California, to participate in the Collaborative Robots, Advanced Vision, and AI Conference. These three technologies are very much in the news – buzz words, even –  and each is likely to spark disruptive technology breakthroughs in the coming years. We were there primarily for the Advanced Vision end of things, showing off some of our latest embedded vision designs, which are used in a wide range of industrial and medical applications.
But I wanted to take advantage of the opportunity to learn more about other technology areas, and in particular was drawn to  collaborative robots (cobotics).
Having attended this event, my understanding of cobotics is vastly different from the understanding I came in with. Originally, I was thinking of collaborative robots as machines that work together for purposes of process automation, Industrial IoT applications, etc. My understanding was, not surprisingly, driven by our experience. Here at Critical Link, we're seeing more and more interest in our SOMs and embedded imaging solutions in these areas, and are really impressed with the ideas and algorithms our customers are coming up with.
But at the conference, the term cobots was clearly meant to describe robots working in conjunction with humans. I'm sure this will take many forms as time and technology move forward, but at the moment the focus seems to be on robotics arms that perform a specific function, with a human alongside. These arms are for use in factory settings, but are no longer behind enclosures as is typical with traditional industrial robots. The list of safety considerations that have to be taken into account to make this possible is lengthy, but necessary because the list of ways an industrial-strength robotics arm can injure a human is even longer.
Not surprisingly, both traditional and collaborative robotics are expected to see strong unit growth over the coming years.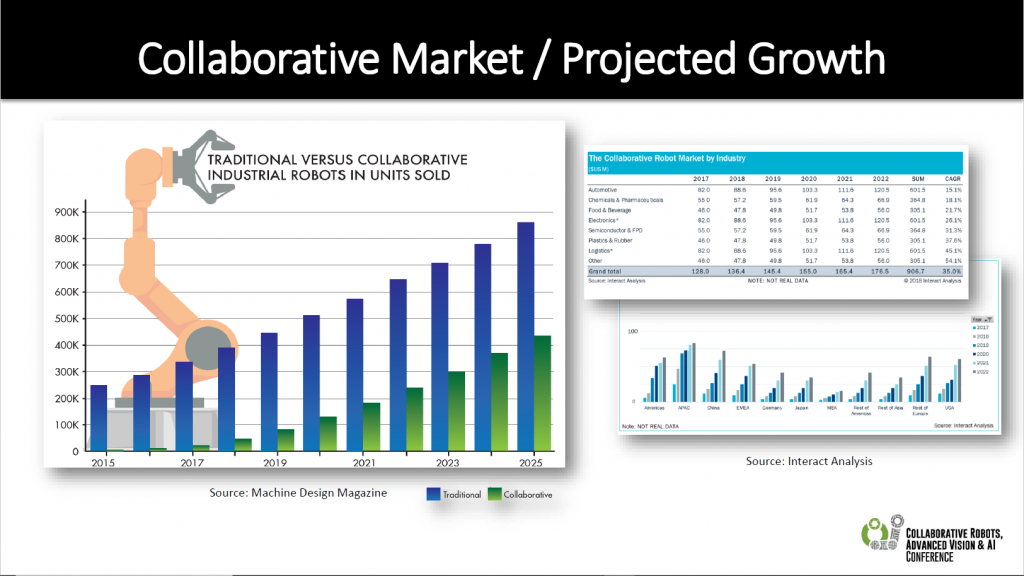 That said, it's not smooth sailing for everyone in cobotics, and sometimes even pioneer companies like Rethink Robotics out of Boston aren't able to make it work. Last month, they announced that they were shutting down.  Rethink's problem was not so much technical, but rather a combination of a couple of deals that didn't work out, and a truly formidable competitor.
The bottom line: the outlook does look positive for both the traditional industrial cobots where our vision systems factor in, and the newer side-by-side cobots.