Critical Link: Pioneers in Embedded Processing Modules
>>View the original article at Embedded Advisor.
Back in the day, a growing shortage of engineering resources threatened to hold back innovation and development initiatives in the realm of embedded hardware and software.
In 1997, recognizing this scarcity of engineers in the software and electronics fields, John Fayos, Dave Rice, Omar Rahim, and Thomas Catalino laid the groundwork for the world's first off-the-shelf development embedded platform when they created Critical Link. Having acquired rich experience from working on Department of Defense radar systems, the founders of Critical Link applied their combined knowledge to new challenges in industrial electronics. Fast forward to today, Critical Link designs, develops, and implements embedded solutions—from System on Modules (SOMs) and imaging platforms for Original Equipment Manufacturers (OEMs) to a wide range of custom-designed embedded products. Critical Link's solutions have found application in a myriad of industries such as medical, manufacturing, test and measurement, and military/aerospace to launch fresh or updated products in the market.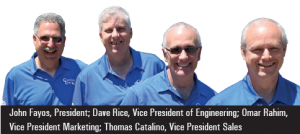 "Our off-the-shelf development platforms assist clients in launching their products more rapidly and at lower costs. We are not industry-specific and work with dozens of unrelated industries from transportation to medical to industrial manufacturing," says Fayos, President of Critical Link. As an embedded systems development firm, Critical Link has developed embedded solutions such as MityDSP and MitySOM that form the foundation for almost every one of their custom electronic designs. These solutions are designed for long lifetime and bolstered by tools and professional support to guarantee product success in the market.
"What sets us apart from other embedded service providers is our expertise in system engineering, hardware design, and manufacturing. Our off-the-shelf modules have proven performance in the field. And our systems engineering, software, and FPGA skills mean that we are able to design a complete working system that meets customer requirements no matter how rigorous the needs," says Amber Thousand, the Director of Marketing at Critical Link. This versatility serves as a big differentiator, enabling customers to work with a single supplier for both software and hardware development.
Critical Link develops partnerships with customers and utilizes unique approaches to ensure success for each customer. The firm's flexibility and engineering proficiency enables them to truly understand customers' needs and operate efficiently for faster time to market, cost-effectively.
Critical Link serves a broad array of industries and customers ranging from promising start-ups to Fortune 50s. Citing a notable success, Fayos mentions Critical Link's work in the railroad signaling domain of the transportation business, approximately four years ago. The railroad signaling industry required the development of track-to-locomotive communication systems to enhance passenger safety. Critical Link fulfilled the requirement by undertaking the design, construction, and testing of a communication system between the locomotive and trackside signaling equipment.
Noting another success, the company recently contributed to the development of a medical testing apparatus which utilizes an illumination system to detect and measure various constituents of blood. Leveraging their experience in embedded imaging and system engineering, Critical Link worked on the optical illumination control system, CCD imager, and real-time processing hardware and software for the device. Consequently, Critical Link developed the new and improved electronics and image processing system used for the blood testing process. Always looking to expand their knowledge base in embedded imaging and design customization, Critical Link is constantly exploring new image sensor technology, vision protocols, and onboard processing for incorporation into their latest products and service projects.
Critical Link aims to leverage their off-the-shelf products and system engineering to help the design and assimilation of efficient and customizable embedded systems. "Critical Link truly delivers the engineering expertise and high-performance embedded solutions demanded in today's industrial applications," concludes Fayos.
For more information about the company's embedded systems, custom imaging platforms, and full engineering support services and product development, please visit:  https://www.criticallink.com/services/.
About Critical Link
Critical Link, LLC (Syracuse, NY www.criticallink.com), founded in 1997, develops embedded systems solutions, system on modules (SOMs) and imaging systems for a wide variety of electronic applications. As experts in image sensor technology, system on chip (SoC) and field-programmable gate array (FPGA) design, signal processing, and vision protocols, we support all product development tasks, from concept to final production.
Our flexibility allows us to deliver full lifecycle support and services at any step along the product development path, when and where needed, to effectively keep costs down. From engineering to hardware and software development, and mechanical engineering to prototyping and manufacture/assembly, Critical Link is committed to helping our OEM customers reach their project goals quickly and cost-effectively.
Privately held, Critical Link is a Platinum member of the Intel FPGA Design Services Network and Intel IoT Solutions Alliance, a Platinum Partner of the TI Design Network, and a certified member of the Arrow Consulting Engineering Services (ACES) network, and is ISO 9001:2015 Registered by SRI Quality System Registrar.