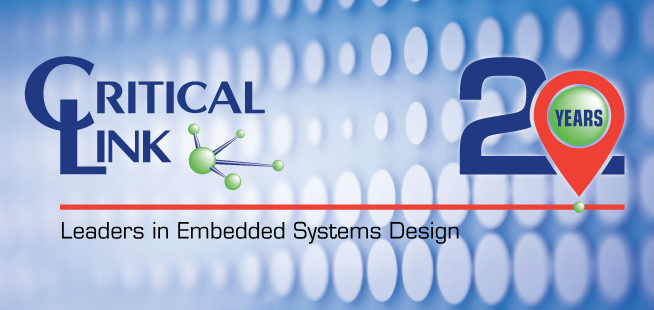 Hard to believe, but it was twenty years ago this past summer that four young (or youngish) embedded systems engineers –  John Fayos, Omar Rahim, Dave Rice, and myself – got together and founded Critical Link. And here we are, maybe not quite so young anymore, but all still together, working closely with our customers to help get their products to market faster than if they built them from scratch. I don't know if there are stats readily available about our staying power – all of our "founding fathers" still working together – but I have to imagine that this is a rare accomplishment.
Our first and second official employees, Nancy Watterud and Zetta Fayos, are still with Critical Link as well, heading up our accounting team. Zetta and Nancy are among the more than 40 employees we have today. And while our back office staff has grown through the years, today the majority of our employees are still engineers. And one of the most gratifying aspects of my job is seeing the new young engineers coming along.
Looking back on our origins, in the early days our projects were focused in the rail industry. We still maintain a contingent of rail customers today, but have leveraged the experience gained there into other areas such as test & measurement, industrial automation, medical instrumentation, and, of course, imaging. In addition, as a result of being based in Syracuse, much of our staff has extensive experience in radar and software defined radio applications, which has created opportunities for us in the defense market.
Today, we work with customers ranging from promising start-ups to Fortune 50s. Products that we have designed are operating around the world 24/7. And products we've designed have won numerous awards. (Not to brag, but to name a few: R&D100, Processing Magazine's Breakthrough Products of the Year, multiple Prism Awards, Vision Systems Design Innovator Awards, Plant Engineering Product of the Year, and multiple Best of NAB awards.)
And, of course, we have products of our own. They're not standalone though; they're embedded in our customers' apps. The original Mity (read "Mighty") system on module, the MityDSP-6711, was designed in 2003 and made commercially available a year after that. It's still in production today, part of a continually growing family of MityDSPs and MitySOMs.
We also work with OEMs to design and manufacture custom imaging platforms around a wide array of image sensor technology. As with the MitySOM, a continually growing family.
Twenty years. I'm still trying to wrap my head around it! The kids who were babies when John, Omar, Dave, and I got together to found Critical Link are all grown up now. (Looking at them is when you realize you're not a kid anymore, that's for sure.) We're all proud of our kids, and we're proud of Critical Link. Proud of our employees. Proud of our work. Proud of our customers. Proud of our partners. Proud of our reputation.
Twenty years! There's an Italian birthday greeting, cent'anni, that wishes someone a hundred years. I may not be around to see it, but I am taking note that we're twenty percent of the way there.