If you're thinking that camping gear is still a nylon pup-tent, a damp and lumpy sleeping bag, and a flashlight, well, I guess you're still living in the twentieth century. Or so I was reminded when I saw an article last week on Bloomberg about some of the very high technology camping products that are out there.
Big Agnes has mtnGLO tents that have LED lights built into the tent body. The one pictured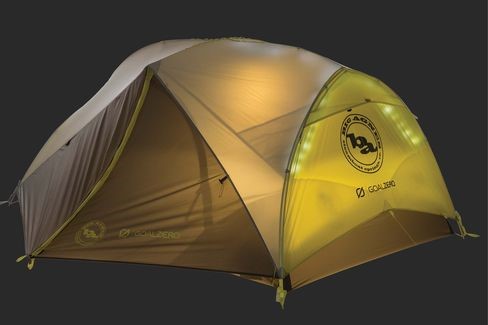 here – which costs $650 – also comes with a fan, and solar panels that connect to USB charging stations (because no one really wants to get away from it all when they're out in the woods; at minimum they want to be able to power up their iPad).
The Rinse Kit – which was funded through a Kickstarter campaign – is a portable shower. Basically, they've figured out how to maintain the water pressure from a fill-up via your hose, without requiring a pump or a battery. And it maintains that pressure for a couple of months. It also will keep the water hot for at least a day. The $90 you spend on it will only give you 5 minutes of shower time, so you couldn't stay off the grid all that long and still be clean. Nonetheless, for those who prefer to camp off the grid, rather than in a campground with showers, this sounds like it might be worth.
Bang and Olufsen has a ruggedized portable speaker: "a scratch- and water-resistant aluminum and polymer body that delivers focused, warm sound in 360 degrees, even when your "venue" has little to offer in the way of acoustics." And I'm guessing you could use the charging station in your mtnGLO tent to top off the battery. The speaker is $250. (This is all starting to add up, isn't it?)
You can also spring for a $280 inflatable sleeping pad. The Exped Synmat Hyperlite will keep you comfortably off the ground. Folks have been using sleeping pads for years – really, who wants to sleep on the cold, hard ground? – but this one "takes no more space in your duffle than a small loaf of bread."
Of course, you don't want to put just any old sleeping bag on that $280 sleeping pad. The Katabtic Gear Flex is "handmade in Colorado." Handmade would, I guess, account for the $395 price tag. The design "includes 'c
ontinuous baffles' that essentially allow you to rearrange the down insulation to suit your needs. A clever 'foot box,' for instance, lets you shift more warmth to your toes on nippy nights." 
From a technical point of view, the most interesting product  – to me, at least – was the FLIR Scout TK night vision monocular. For $599, you're really going to want to be up and looking around in the dead of night. Unlike some of the other products mentioned in the article, you could actually get the specs on this one from FLIR.
Anyway, with summer upon us, a lot of folks will be heading out to do some camping. And there's a lot of cool stuff out there, if you really want to gear up.