Syracuse, NY (July 9, 2014) – Critical Link today announces that it is ISO 9001:2008 Registered by SRI Quality System Registrar, making the company one of only a few System on Module (SOM) manufacturers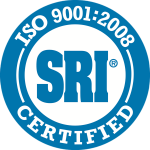 in the United States that holds this distinction. The registration indicates Critical Link's customer support, engineering design, and production processes meet the rigorous requirements of the International Organization for Standardization (ISO), giving customers additional confidence in the consistency of Critical Link systems and services and commitment to providing quality products. This achievement also means companies and programs that require ISO 9001:2008 registered suppliers can now benefit from Critical Link's embedded SOMs and imaging solutions.
"The entire company is energized and enthusiastic to continually improve our processes and products. It's a challenge we thrive on," explained Critical Link President, John Fayos. "We've always had high-quality products. Our failure and return rates are extremely low. This is only going to push that quality up even higher, so we're really excited."
ISO is the world's largest developer of voluntary International Standards, state-of-the-art specifications that help ensure products and services are high-quality, reliable, and safe. There are more than 19,500 ISO standards for nearly all aspects of business and technology. ISO 9001:2008 specifies requirements for quality management systems (QMS) in which organizations demonstrate their ability to consistently provide products that meet customer and applicable statutory and regulatory requirements.
"Achieving registration to ISO 9001:2008 is a great accomplishment for Critical Link", said Nina Lott, Quality Manager. "It demonstrates our willingness to meet our customers' expectations and represents our commitment to continual improvement."
As one of the only completely US-based ISO 9001:2008-registered SOM manufacturers, Critical Link's future looks bright – and earning the certification proves the team's commitment to making that future a reality.
"This is a major accomplishment for our customer support, engineering, and production teams. They worked hard and were extremely committed to the task of formalizing every aspect of the way we produce, test, ship, and support our products," said Fayos. "Neha Chopra, our production manager, has been instrumental in the implementation. Over the last two years, she's been whole-heartedly dedicated to establishing and promoting these processes. We're very proud of the entire Critical Link team."
Click here to view Critical Link's Certificate of Registration
About Critical Link
Syracuse, N.Y.-based Critical Link is an embedded systems engineering firm, offering a broad range of highly customizable, small form factor SOMs and development kits for highly integrated, embedded systems for medical, scientific, and industrial applications. Critical Link's end-to-end product engineering offerings include design, development, and production services. Critical Link is a member of the Altera Design Services Network, a Platinum Partner of the TI Design Network, and a certified member of the Arrow Consulting Engineering Services (ACES) network. Critical Link is ISO 9001:2008 Registered by SRI Quality System Registrar.