For those of us who like gadgets, like to tinker, and like the idea of smartphones getting even smarter, there's good news: Google is continuing to work on the Ara, a modular smartphone.
Project Ara is essentially a set of electronic components that can be placed together to create a completely customizable mobile phone. If you want a cellphone with a keyboard and smaller screen, you will simply be able to select those components and clip them onto a base called an endoskeleton. Maybe you want a better camera but smaller battery: Just p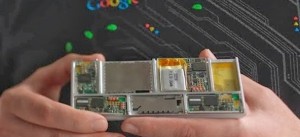 lug those in instead. (Source:  NY Times Bits blog)
If the Project Ara experiment pans out, Google plans on offering three different sizes: a mini version, a medium (pretty much the size of a current smartphone); and a jumbo. They're also hoping that this takes off with third-party developers who will jump in to create plug and play components.
The ability to choose the features you want, and to be able to build up as you go along, is a very cool idea. While – despite the intention to offer this in a mini format – I don't think that this method is likely to result in the smallest phones of all time, but it will allow for the ultimate phone customization.
This is probably a long way from being a mature, ready-for-market product, but it will be interesting to see how they answer some of the questions I have: how will the OS know what modules are installed? How long before the OS is robust enough to deal with devices that are and are not there, depending on the phone configuration?
Anyway, I can definitely see myself tinkering with one of these!