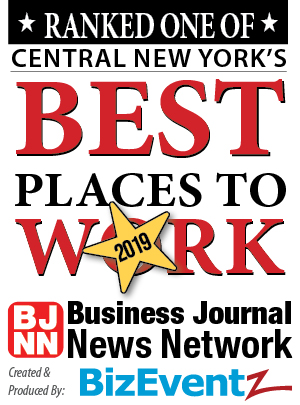 SYRACUSE, N. Y. – Critical Link, Dewitt-based embedded electronics engineering company, is thrilled to have been selected as one of the 2019 "Best Places to Work in Central New York" by the Business Journal News Network and BizEventz. This award recognizes local employers that rank highest in employee satisfaction. Critical Link is one of just 18 companies in the "10-50 employees" category.
"This recognition is a testament to every employee at Critical Link. Our people are what drive us forward, and what has generated so much of our recent success. We are honored to be among this impressive list of companies," said John Fayos, co-founder and president.
The top 40 honorees are selected based on an employee satisfaction survey, which measures areas such as:
Overall job satisfaction
Importance and satisfaction with company direction, supervisors, work, and pay and benefits
Connection employees have with their coworkers and company leaders
Words and phrases that employees associate with organization
This is the first year Critical Link participated in the Best Places to Work in CNY survey. Full rankings will be announced later this year at an awards ceremony in September. The company was also recently named to Inc. 5000 Fastest Growing Companies list and has been honored with several other industry awards—including STEM Company of the Year and Technologist of the Year from the Technology Alliance of Central New York.
About Critical Link
Founded in 1997, Critical Link designs and manufactures board level processing cards (called System on Modules) and embedded imaging platforms for industrial electronic applications worldwide. The company delivers advanced technology solutions for customers in manufacturing, energy and utilities, defense, medical, laboratory science, transportation, and many others.
The company is owned and operated by its original co-founders and employs 42 people at its facility in Dewitt. And we're hiring! To learn more, visit www.criticallink.com and follow us on LinkedIn.
# # #
Contact:
Katie Jerome
Marketing Manager, Critical Link
kjerome@criticallink.com
315-425-4045 x206